Career Services Office
The Career Services Office provides career and employment information and services to students and graduates. Placement assistance is available to graduates and currently enrolled students seeking full or part-time work. The Career Services Office also provides assistance to employers seeking either full- or part-time employees. We welcome the opportunity to share our services with employers such as our Intern/Co-op program, resume bundles, on campus recruiting and many more. If you are a student, alumni or employer and would like to more about our services then please click on the appropriate link in the right column.
Students and Alumni can access the College Central Network below to search jobs, internships, co-op opportunities, resume help, interview tips and much more! Employers can utilize the College Central Network to post job opportunities for students and alumni at all six Nashville State campuses.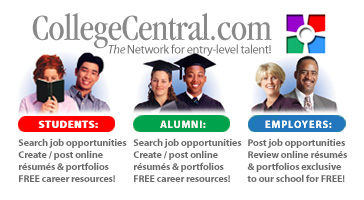 Career Services Office Information
Location
Student Services Center, Room S-206
Nashville State Community College, Main Campus
120 White Bridge Pike, Nashville, Tennessee 37209 (Map)
Office Hours
8:30 AM to 4:30 PM, or by appointment, Monday through Thursday
It is important to be on time for your scheduled appointment. If you arrive 15 mins after your scheduled time then you will have to reschedule your appointment.
Contact Us
Phone: 615-353-3248
Fax: 615-353-3254
E-mail: .(JavaScript must be enabled to view this email address)

Career Services Office Disclaimer
It is the responsibility of each individual to research the organizations to which one is applying. Use caution and common sense when applying for any position and when supplying personal information through the Internet. NSCC and the Career Services Office do not monitor outside Web sites/Web pages and therefore cannot assume responsibility for their content.